UPDATE: Currently running the game through WTFast using the default listed game of BnS causes problems with the patcher since they(wtfast) have not updated the game parameters after CBT. So, till they release an update for it, you can use the below method to allow you to run it correctly.
(Old CBT parameters have been fixed, so just re-check if you had used this guide before I updated it)
----------------
Just making this topic to set up BnS for wtfast since they havn't added the game yet to their list.
Wtfast is totally free to use. So if anyone is still not using it, it's recommend to use it to stabilize the ping to the game server. (considering the game is heavily latency reliant)
Anyways, there's not much to do. Just select the custom game option and click on "Add"
After, clicking Add, just fill in the boxes as follows: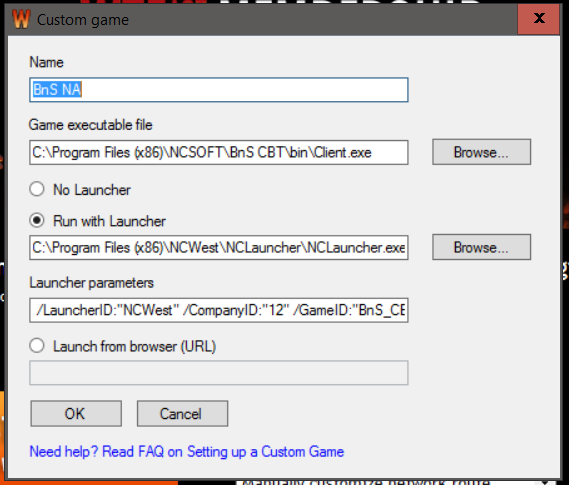 Copy paste (for the lazy people like me)
Name: Meow
Game executable file: C:\Program Files (x86)\NCSOFT\BnS\bin\Client.exe
Run with launcher: C:\Program Files (x86)\NCWest\NCLauncher\NCLauncher.exe
Launcher parameters:  /LauncherID:"NCWest" /CompanyID:"12" /GameID:"BnS" /LUpdateAddr:"updater.nclauncher.ncsoft.com"
NOTE: THE ABOVE PATHS FOR THE GAME EXECUTABLE AND THE LAUNCHER ARE BASED ON DEFAULT INSTALLATION LOCATION. IT WILL BE SLIGHTLY DIFFERENT IF YOU HAVE A DIFFERENT INSTALLATION PATH. PLEASE CHANGE IT ACCORDINGLY
Once the game is added, select it from the list, and select the network you want. It usually suffices to auto-select but sometimes the auto-select is unavailable. At those times, i simply select texas 4 (for NA) and germany (for EU) as my manual server (works for me but may not work for u. so please tune it according to your physical location)
Hope this helps. ^_^