Info
One of the game's most rewarding instances. Located in the Divine Fortress (Reshanta - Core), accessible 3x/week to the faction holding the fort. Commonly abbreviated as UAS.
Loot Table
- AP Relics (between 120~180k per run)
- Greater Mythic Supplements (~350)
- Legion Coins (~50-60)
- Fabled UAS set pieces (rare/unique skin).
- Headgear with the most HP in the game (chain/plate - +500 HP).
What do I need to run UAS?
For 5man any AC weapon or better (socketed/upgraded) + 60eternal set minimum will guarantee a smooth and solid run. Better gear means u can do 4man.
Setup
:
Option A: 1 Tank / 1 Cleric / 1-2 DPS
Option B: 3 DPS (1 Good/Geared that can tank) / 1 Cleric
Try to take a sin/gunner or dual wield gladi along for fast killing of webs on second boss.
Consumables
:
- Lots of MP pots (normal and AP)
- HP/MP recovery speed drinks
- Elemental defense food
- Fine waterproof scrolls.
Loot


Each of the four bosses spawn 3 small treasure chests and 1 big treasure chest when defeated. There are an additional 12 small treasure chests in the area before the final boss IF you manage to kill the 3rd boss in time.

Small treasure chests contain AP Relics, Greater Mythic Supplements & Legion Coins.

Big treasure chests contain higher-grade AP relics, supps, legion coins, and can give UAS armor pieces. Abyssal Bundles (Balic mats) are usually ffa.

Loot is usually split as follows:

- 1-2 players for relics (AP): If 2 players, you can use ARM (Aion Rainmeter) to split the AP evenly. Use 'Auto-Copy relics to clipboard' and frequently post the balance in-game to split AP evenly (eg. let player A loot to 10k, person B to 10k, player A to 20k, player B to 20k, etc.)

If 1 player takes all AP, he/she will usually offer kinah (10-15m) to another player in return for letting him/her have all AP.
- 1 player for Supplements (supps)
- 1 player for Legion Coins (LC) + UAS Fabled Armor pieces (Golds)
- 1 player for 10-15m (optional).


Put loot on FFA / Normal .. saves time. If someone takes something they should not = kick. Simple.

Walkthrough

*Note
: Killing all 3 crystal fragments that appear once a boss is dead will unlock the hard mode final boss, which is not desired unless you want a chance at a lv60 eternal weapon and a souvenir.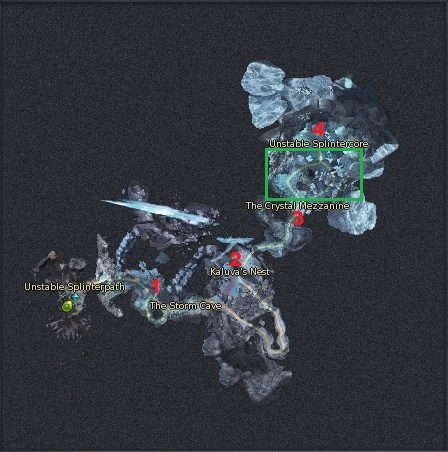 Walk past the big mob at the start. AoE power will bring the crystals down. If your tank is made of paper, you can sleep root them too.
1. Unstable Pazuzu


Tank & Spank.

When shield pops, kill the worm adds on the sides to remove it.

2. Unstable Kaluva the 4th Fragment


This boss can easily be bugged. Think in terms of random resets, shield not disappearing etc. To avoid this, do the following:

Always stay close to it. Chase after it when it runs. When it targets you, tank it straight up like a man. Even if you're a girl. Never kite.

Shout "web" if you are webbed. Webbed means you can't do anything and are covered in a sticky white mass. Attack the cobweb with autoatk or DoTs/multicasts to set them free. Clerics should be 'de-webbed' first, followed by the tank and DPS.

Below 50% HP the boss may web 2 players at once. Break webs quickly to prevent the entire party from getting cocoon'd.

When the boss walks to one of the egg, WAIT until the shield icon pops on the before BEFORE killing the egg, else it bugs (dat pun).

Don't forget to take the Abyssal fragment (key) from big box.
3. Unstable Rukril & Ebonsoul
This boss will split in two upon approach or when attacked once.
[!]
Before starting this fight ensure all your major skills are not on cooldown.


Black boss first, then white. Everyone stand 0m.

DPS players will end up tanking, so focus heals on them. Try to keep it turned so your party members don't get hit by its AoE.

Kill black boss as soon as possible via normal skills.

Once dead, immediately move to white boss (0m) and unleash the kraken everything you've got. Max DPS, use DP, burn etc. You have 1 minute to kill it else no loot and big drama.

Glide down the area with the floating platforms. There's 12 or so boxes, you will need to go up via the elevator at the bottom a few times to get them all.
4. Yamennes
Spoiler:


Mark the portals on the ground 1-3. Click them to be beamed up.

Tank: Have the boss face the artifact.

Cleric: Stand on either side of boss and heal tank from max. range.

DPS: 1 DPS standby at each portal. If 4-man, 1 DPS has to position himself between 2 portals. DPS from max range.

This is where your ele.def food/water scrolls come in.

Adds will spawn through gates periodically. The pattern is TOP, BOTTOM, TOP, BOTTOM, etc. Kill gates asap, and mobs will disappear. When portal spawns, talk to portal to go up, kill gate, glide back down.

[Crystal Collision]: Many players don't know this, but it can make your fight a lot easier. This skill, when used, will cast a number of combo attacks on the position where you were standing at the moment the boss cast this skill.
A series of 4 attacks will then hit that very same spot and the nearby area. Each hit does damage and drains MP, with the 4th successive hit doing big damage and paralysing you for 4 seconds.
The trick? Once you see yourself getting hit by the first crystal attack, simply move a few meters away from that spot (to the left or right) to avoid the consecutive hits. Saves your MP pots too.