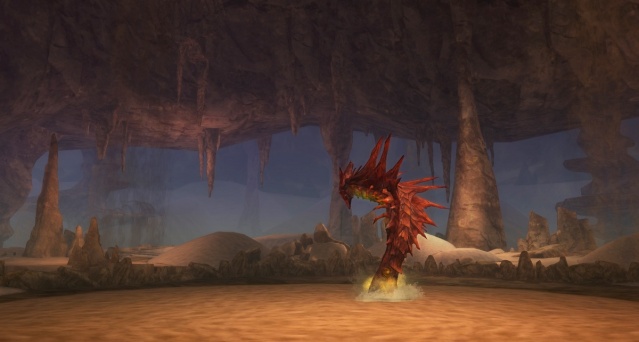 Info

Muada's Trencher
(abbreviated as 'Muada')
Level 57+No Pre-Entry Quests
Entrance in
Sarpan
, Sabat's End [
Here
]
Available 1x per day (daily reset)
Response speed is the key to this instance!!
Preparations
Bring enough of the following:
- Greater Running Scrolls (30%)
- HP/MP Potions (normal & AP)
- Shout/Alert chat must be enabled.
Learn the following 2 skills by heart:


Ray Thorn: You have to be close to boss (5m or 0m) when he casts this.

Swiping Blow: You have to be away from boss (over 15m) when he casts this.

Usually, your leader will shout/alert the attack skill along with the range.
RAY THORN
-> IN (get close, hug the boss (0m))
SWIPING BLOW
-> OUT (over 15m away).
Guide
Fight is split into four phases based on Muada's remaining HP (every 25%).
Phase I (100~75%)
- Tank: Tank & spank.
- Healers/DPS: Stay behind her and stay close (5m or closer) all the time.
Everyone pop running scroll once HP reaches 75%.
Phase II (75~50%)
- Tank: Kite Muada around the room in a large circle. Use occasional (AoE) taunt etc. while running to keep aggro.
- Healers: Run after the tank and heal him. Pause only short moments to use quick/low cast time heals. No long cast skills, since adds target clerics very fast here.
- DPS: Stay in centre and burn boss from there.
Tips
:
- Don't hit the adds.
- If you die, resurrect at start. Don't wait for res.
Phase III (50~25%)
Keep kiting boss and healing tank until adds disappear.
cc/aoe fear/freeze adds to make them disappear faster.
Watch for Ray Thorn/Swiping Blow and respond accordingly.
If you die, resurrect back at entrance, heal up fast, and rejoin the fight.
Muada now also has an additional attack, Swiping Blow. She will alternate between the two, mostly in the order of Ray Thorn (0m) > Swiping Blow (>15m) ~20 seconds after. Everyone will need to act fast and either get in close or far away based on the shouts.
Tips
:
- Keep boss in centre at all times. Never run to start.
- Resurrect IMMEDIATELY AFTER she has cast Ray Thorn or you will be 'death locked'.
- Rejoin the fight immediately once back up. Staying at start = suicide. You're safer near Muada.
Phase IV (25-0%)
When Muada submerges in the sand, and will get knocked down.
Remove Shock > RUN towards the hill near the start of the instance.
If people die while in the sand pit, Muada will get an attack buff which SM/SW can dispell or a good tank can just handle.
Tank/spank and keep max distance at all times.
Done.